See What We Have to Offer
ScoopAdmin is here to help you create professional looking sites with ease and satisfaction.
Creating a website is a great way to build a recurring service relationship with your clients. Think of a website as a measurable tool for all your other service options!
If you write your client a great blog post on ScoopAdmin you can show them how many visitors they had.
You can send social media viewers to unique landing pages on the site with content specifically for them
Email out to customers and provide them a page on your site to order/signup/etc
Possibilities are endless!
You can even put a call to action message or a signup form anywhere in the page or post. Take it to the next level beyond showing engagement and start bringing in customer leads.
ScoopAdmin is your empowerment platform. Imagine the value and the possibilities you can show your clients!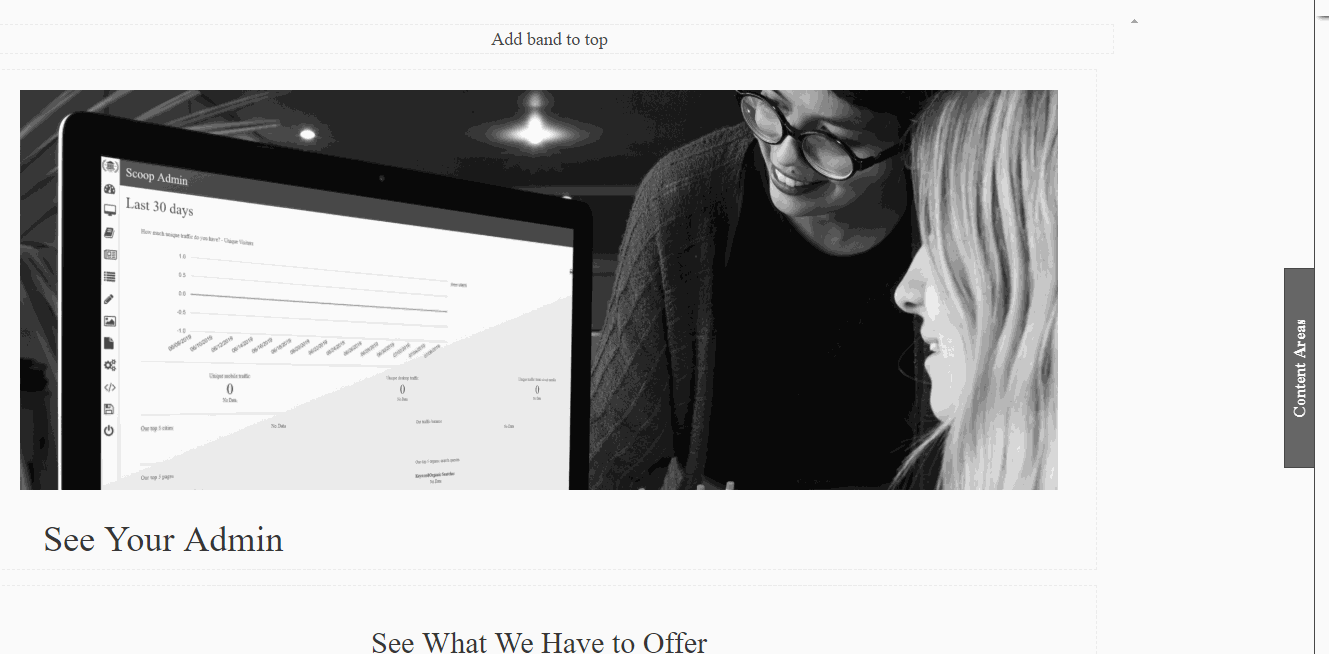 Have you ever had a website project you removed from your portfolio because the client destroyed the cohesive branding? We understand that pain. We developed a way to give your clients the ability to create and edit things without going off branding.
Our page customization system is very easy. Just drag and drop elements from our pre-built library onto your page. Our headings and body copy areas are customized and styled during the setup process to match your client's branding. Ensuring that they keep their site looking consistent and great for years to come.
Types of Services Enabled on ScoopAdmin
Developer Tools for Ultimate Customization
Are you a developer? We have something optional for you. Do you need to make a completely custom project? We have a built-in file editor and upload system allowing you to build and test directly on the platform in the live environment. We are also releasing an SDK for localhost development. Create your own blocks, bands, and themes. Submit those to us for use in our library. We will even pay you a percentage of sales!
We know one of the most important things regarding websites is security. That's why it is a top priority for ScoopAdmin. In order to provide the best security to our client, we've taken several proactive steps in designing and operating our software. You can feel confident in selling this security!
Our platform is not residing in a shared hosting environment. We also are not running off of databases or external storage, eliminating breaches in communication avenues there. We have a dedicated support and development team who are continuously monitoring network safety and installing any necessary security patches or upgrades. Also, did you know that we include automated backups, too? While it might not typically be considered a security measure, it definitely is a safety measure for the content and stability of your site!
ScoopAdmin's parent company has been in business for over 10 years. That longevity and establishment are reassuring that this project is not going anywhere anytime soon, so there's no need for concern on the sustainability of the platform. This custom close sourced software provides a unique code that is not open to the world for hackers to write against unlike some other hosting and developing companies. Additionally, the unique administrator names for each reseller adds another layer of security by increasing the difficulty in bots locating your login point of entry and credentials.
We have and continue to strive endlessly to ensure the utmost security of our sites. We've taken thousands of security precautions to protect not only you and your sites but also our own sites running on the same system!
Built in Statistics and Analytics
Each site you create will have a complimentary dashboard panel integrated with Google Analytics. This one page, conveniently located as the home screen on the back end of each site, is complete with page views, graphs, and other necessary information to help you continue to provide service packages to your customers. Make the most of this tool, and use it to show strengths and weaknesses in a site to sell marketing packages, SEO monthly content reviews, and more.
VIP On-boarding Experience
We do all of the initial setups for you! Once you provide us with a few basic pieces of information such as the chosen domain and theme, we will put everything you need in place. We will hand over to you a fully white-labeled administrative package ready to go!
One of the features that makes ScoopAdmin systems one of the easiest to use for customers of all backgrounds is the user-friendly and intuitive drag and drop tools. Whether you are creating pages for the first time or adding a bit of new content to existing pages, the visual builder is not only easy to use but extremely efficient. There is no downtime in learning the code or additional expense of having to hire a coder.
We can provide you and your team with site success coaching where we provide a software tutorial, as well as suggestions for layout and page structure. Let us know what we can do to help you! We can be as involved or as hands-off as you'd like.
Get instant feedback for your pages to improve ranking on Search Engines. Every site built on the ScoopAdmin platform comes with free SSL certificates. We also have certificates from all the major authorities if you need to upgrade. Built-in meta tags and editable sitewide tag systems allow you to create the most effective strategy to take over your category! Get seen at the top of the search engines at record speed.